Where will I travel next? With around 197 countries in the world today, choosing your next travel destination can be quite a challenging task. In fact, the process doesn't have to be confusing. To help you ensure your next getaway is everything you want it to be, I've put together some travel destinations tips and the main things to consider when choosing a travel destination and planning your trip. Just work through them and make life a whole lot easier for yourself.
How I decide where I travel to next can depend on a lot of different factors. Everything from the cost of living in a destination to the weather and seasons makes a difference. I'll share my process and some tips that will help make choosing your next travel destination a breeze.
IMPORTANT THINGS TO CONSIDER WHEN CHOOSING A TRAVEL DESTINATION
1. CONSIDER THE WEATHER AND SEASON
You have to take the weather into account when picking a vacation destination. You may want to avoid extreme hot and cold months and travel during spring break instead. Traveling in high (or low) tourist season will obviously affect your trip. If you can choose your travel dates, it might be better to choose months with good weather in the shoulder season. This is because prices in high season go up, availability goes down, while shoulder season offers the best of both worlds with fewer people around.
What do you prefer hot or cold weather? Winter or summer? While traveling in the low season can save you some cash and sometimes can work to your advantage, it can also have a huge impact if the weather conditions are not suitable to do the activities you had planned. You're not going to get much of tan or enjoy hanging out by the beach with a cocktail if it's raining all day because it's the middle of the monsoon season.
Goa resorts, for instance, are filled with tourists from December to March, since they are escaping the winter in Europe. So if you decide to visit Goa during the monsoon season from mid-June to October, you can get great accommodation deals and visit the festival of Sao-Joao.
If you're planning a ski holiday, it wouldn't make sense to book a trip in the early shoulder season if it has been a mild winter that year. If you're really short on time and you can't wait around for the weather to improve, you'll just have to grin and bear it. So it's better to do some research, check the weather and take the seasons into consideration before even thinking about going anywhere.
2. COME UP WITH A TRAVEL DESTINATION
If you've always had your heart set on going to Europe, for example, why not make it happen? Don't put off visiting as you never know when the journey's going to end. Just be aware that dream destinations can sometimes disappoint you. Also, try to narrow down to countries (or better cities) that you really would love to visit into a kind of travel bucket list. This should help to cut your destination list down a bit. After deciding on a destination, booking a luxury villa for your holidays like Marbella Villas is the best thing that you can do.
Where do you want to go? Would you like to swap tried and tested favorites for off-the-beaten-track destinations?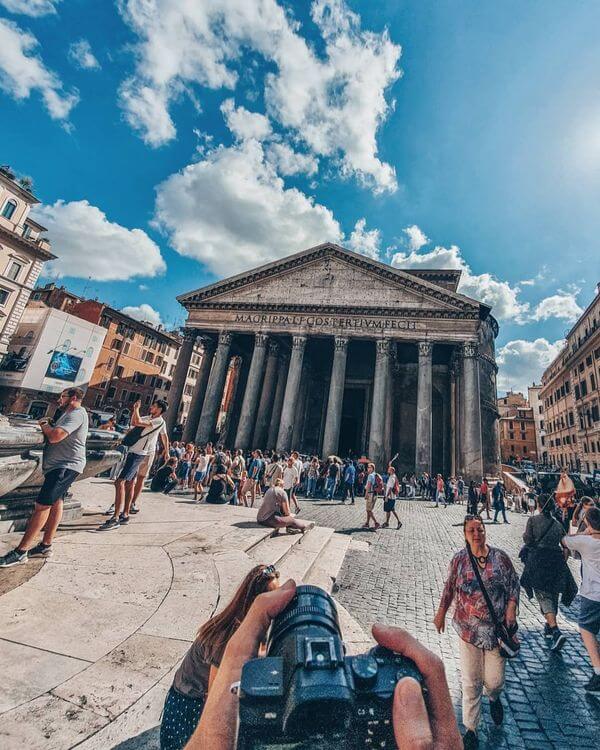 If exploring Chinatown in Bangkok or hitting Phuket's beaches sounds more appealing to you than visiting London or Berlin this will make your choice a little bit easier. I love getting off the track most of the time but of course, the world's most-visited attractions are popular for a reason – they're incredible!
3. CONSIDER VISITING NEW DESTINATIONS
Traveling to a new country I have never been to before is always on my list. It's all about prioritizing though. When I go back to the same city, I do my best to stay in a different hotel, eat in a different restaurant, create a different itinerary. We're naturally inclined to go to places we have loved in the past, but plunging into the unknown can be very rewarding.
4. PLAN YOUR TRAVEL BUDGET
It goes without saying that money is a determining factor for many travelers when it comes to choosing a vacation destination. You don't need those winning lottery numbers, nor rich parents to travel, but you also want to feel comfortable with the destination you choose, the seat class you fly in, and the hotel you are staying at without spending ridiculous amounts of money.
If you're asking yourself "where should I travel next?" you should also be asking the following:
Do you want luxury vacations or you want to keep your budget low?
Will you fly with a budget carrier or only in business or first class?
Do you prefer boutique hotels? Or will you stay in an Airbnb?
Will you stay in a hotel like this or in a hostel like that?
Will your destination require brand new accessories for traveling?
Is it possible to redeem airline or hotel miles and/or points to offset the cost?
Which countries offer a favorable currency exchange rate?
In general, traveling internationally is pricier than staying in the same country. However, in some cases, what you save on airfare when traveling close to home might get spent on fancier hotels and upscale restaurants. On the other hand, you will pay more for a ticket to Thailand, but the cost of travel there is less than close to home.
Finding out the airfare, accommodation, and visa costs for your destination will help you determine which ones are within your reach financially.
And I'm here to help you do just that. Airfare websites I regularly check are the Flight Deal and Secret Flying. Both resources list mistake fares and other great value airfares. The deals are timely and you should book immediately to get huge savings.
Momondo is a great tool for choosing a European destination and finding the cheapest flight possible. There is even an explore function that allows you to sort out destinations by continent, month, budget, and theme.
YOU MAY ALSO LIKE: I WANT TO MOVE ABROAD. WHERE DO I START?
Skyscanner is another tool that lets you find the cheapest airline tickets even when you don't where you want to go. Type your departure airport and select 'everywhere' as your destination. The search engine will show you the cheapest flights to a range of destinations.
If you need more tips about how to find cheap flights, check out this post.
If you're (like me) fond of hiking and exploring nature, Europe has a wide array of places to visit, so it can be wise not to leave it at all. That said, there are also a number of low-cost airlines to travel across Europe. Choosing the next travel destination is much easier when you know you can get around on the cheap.
5. CONSIDER THE COST OF LIVING
Naturally, if your travel destination is a low cost, your quality of life gets better. Finding the cheapest places to travel, will allow you to enjoy a better quality of life and stay longer.
You can research a travel destination before you go and find out the cost of living. Use a collaborative online database like Numbeo and get a list of common expenses, such as a meal at a restaurant, a cup of coffee, public transportation, and more. Expatistan is a similar service that will let you compare the cost of living in your city to that of your destination.
6. PLANNING VS. SPONTANEITY
Sometimes it is difficult to plan everything ahead, but even if your travel itinerary is clearly laid out, chances are you might want to change something or give up the original plan in favor of other places. I found careful planning to be a useful skill, but the best and most memorable moments happen when you add a bit of spontaneity.
There's absolutely nothing wrong with changing plans during the trip. I know a lot of last-minute travelers out there who only take into account the price of the ticket and their willingness to go. Of course, this approach isn't suitable for everyone, and will likely deprive organized people of pleasures of engagement and careful planning.
Consider choosing DEAL destinations. Every time you visit sites like Skyscanner or Airfarewatchdog and see hot flight deals take advantage of low prices to reach the destination. Use airfare sales as a tool for determining your next location.
READ NEXT: HOW TO STAY HEALTHY WHILE TRAVELING
Staying flexible with my travel plans is something that gives me confidence. Plan everything the way you want, so you can change it later if you like when you arrive at your destination. You will come across places you'd like to linger at as well as places that are much less pleasant. Some places can be more expensive than you had initially planned. At the same time, other places can actually be much cheaper. The weather may affect flights and bring some uncertainty as well. Thus, establishing a good balance between careful planning and spontaneity is well worth an effort.
By mapping out every step and further firm adherence to it may limit your travel experience and create unnecessary difficulties. I'm not a big fan of planning every step and sometimes love spontaneous decisions. The great thing here is to mix these approaches to create a balance between careful planning and spontaneous decisions.
7. SHORT-TERM TRAVEL VS LONG-TERM
Depending on your interests and the amount of time you have to travel, certain destinations deserve the attention and will make more sense than others. If you only have one or two weeks for a trip, it's better to stick to one city or area. Rushing around trying to see as much as possible is something you want to avoid. Visiting only one place during a short-term trip allows you to avoid stress and provides more in-depth insight.
Traveling long-term (a couple of months to play around) generally implies more options. When I go on a long-term trip I carefully read the reviews on the countries I'm going to visit. Some of them may drive you crazy with their insane traffic, beggars, and filthy streets. Visiting such countries can be frustrating and exhausting. It's more convenient to start and end the trip in a place you already know. The process of exploring goes smoothly when you relaxed.
8. WHO ARE YOU TRAVELING WITH?
Are you a solo traveler, a family, traveling as a couple, or with friends?
Needless to say, the people you're traveling with will have a huge impact on where you choose to go. If someone in your group has specific travel plans you have to take this into account when choosing the next travel destination. It should be enjoyable for everyone traveling.
You should be asking yourself if you're a solo traveler, a first-timer, or someone who has already been there. Are you looking for ways to get out of your comfort zone? Or would you prefer to keep things easy for yourself by taking a tour?
There's no right or wrong answer. Just follow what feels right from within.
If you're traveling as a family with young kids in tow then you'll definitely want the travel to be educational in some way. Consider, then, sightseeing, age-appropriate museums, and cultural experiences. If you're going on a family holiday you'll choose a completely different destination as you would for a romantic getaway with your partner. If you're traveling solo you may prefer to stay in hotels because they are great for meeting and socializing with fellow solo travelers.
9. WHAT ARE MY GOALS?
Another trap is travel burnout. This is a feeling typically signaled by emotional exhaustion and feelings of detachment or cynicism when you travel long-term in a new and unfamiliar environment. The most common reason for this is tiredness from doing the same things over and over again, meeting new people and adapting to local cultures.
If you're looking for low-key vacay spots, you can easily rule out some destinations. For example, you may want to avoid big cities like Rome and favor beaches or lakes.
However, if you are looking for an outdoors, hiking adventure, rural areas may be more attractive. Hike through hiking through quaint villages and ripe vineyards in the Cinque Terre, the French Riviera, or the Swiss Alps! Want both? Many destinations offer an amazing mix of activities and touristic infrastructure within the same country or region. With your goals in mind, you'll have an easier time picking a destination that will seduce all of your senses.
10. DO I NEED A VISA?
Not all countries are created equal and many people weren't lucky enough to be born in the US, New Zealand, EU, Canada, Japan or Australia to travel the world visa-free. A lot of folks around the world still need a visa to visit any particular country.
Visa application usually complicates travel planning. In some cases, you may need to contact the consulate long before the visit, apply for a visa, pay the visa fee, which can range from small amounts up to surprisingly large ones, provide photos of the required size, and then wait for a response.
Other countries will only require a visa on arrival. The thing is, you need to do some research on whether your desired country requires a visa and how long does it take to process it.
Visa requirements vary from country to country depending on the nationality of your passport. The thing I check before choosing the next travel destination is whether the country requires a visa.
This step-by-step travel checklist will take away the stress of picking a vacation destination:
Staying flexible with your travel dates allows you to save money on flights, accommodation, and activities;
Each season offers advantages and disadvantages. Have the best of both worlds;
The low season isn't always a bad option when visiting tropical countries;
Planning and spontaneity are in fact the two sides of the same coin. Create a balance between them to get the most out of your trip;
Make up a list of countries that require a visa. Get up-to-date information regarding visa and travel requirements;
Define your travel style;
Create a rough outline of your itinerary and a variety of options to choose from.
Do you have any other things to consider while choosing your next travel destination? What are they? Let me know in the comments below! Like this post? Please share it on social media using the share buttons to the left and below.